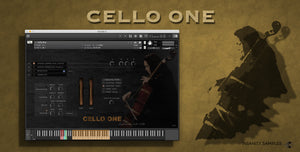 CELLO ONE is a beautifully captured Solo Cello library for the full version of Kontakt. With an intricate True Legato, staccato overlay system & extensive FX capabilities. This Cello can take you from sweeping and delicate melodies, to heavy, distorted and experimental playing...
This is a powerful and unique sounding instrument, perfect for bold and expressive Solo Cello writing. With the 99% use-case 'bread and butter' articulations, captured in our signature way; bursting with human nuance and character.
Important Note: Cello One requires the FULL version of Kontakt 5.8.1 or above (also works with the FULL version of Kontakt 6/7). Do not purchase this if you only have Kontakt Player.
INDEPTH WALKTHROUGH
CONTEXTUAL DEMO 1 (SWEEPING MELODY)
CONTEXTUAL DEMO 2 (HEAVY CELLO)
LISTEN
Lovely instrument
Love the rawness of the sound 🙂
Great to get back to
Amazing! After some updates and tweaks, I went back. This is likely the most expressive and easiest to use instrument. Thumbs up for not being fiddly…just plays how I think it should play.
Very pleased with the quality of this!
CELLO ONE - Expressive Solo Cello
Cello ONE: a great cello for slightly grittier use cases
As an owner of both NEO Strings and NEO Woodwinds I was tempted to also get Cello ONE, because of the gritty sound I noticed in the demos. I was not disappointed and inspired to write a little demo (all in one take).
For the price this offers a great all round cello legato patch and a nice staccato articulation (stackable) that are highly playable.
My demo: https://youtu.be/WHAjcVsVmEc