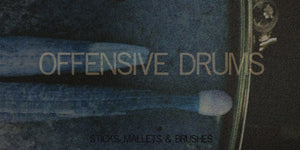 FREE WITH ALL PAID ORDERS UNTIL AUGUST 2ND!
OFFENSIVE DRUMS is a library of 3 drum kits: STICKS, MALLETS & BRUSHES.
40 unique variations per drum or cymbal (4 round robins with 10 velocity layers per round robin).
As with all Insanity Samples products these kits are incredibly versatile, capable of being soft and beautiful or industrial and aggressive. The dynamic layers go from the quietest prod, to the biggest smash, where the performer genuinely took a run up!
With the signature FX unit and brand new 'IRON FACTOR' dial to blend in a truly industrial and metallic punch to the STICKS kit. 
All 3 kits include a series of 12 variating cymbal scrapes, for stinger like effects. Designed with both E-Drum kits and Keyboard drummers in mind, with standard drum mapping for E-Kits, coupled with duplicate triggering to allow for keyboard players to easily play complex rhythms on any single drum with two hands.
Please note: Kontakt FULL 5.8.1 or above is required. Will only run in demo mode in Kontakt Player
AUDIO DEMO

TEASER TRAILER
INDEPTH WALKTHROUGH
Great budget drumset
I love simple and useful sample libraries like offensive drums. The mallet option is a huge plus.
Very inspiring drums library
I mainly bought this library for the mallet sounds as they are something I have found very hard to find elsewhere. They certainly did not disappoint and I wrote a track using that sounds within a few days of downloaded the samples.
Love the other sounds, very natural sounding but with the option to really muck them up if you want. The interface is a little quirky but it does encourage experimentation but also, you can just get on and play, which suits me when I am writing.
Thoroughly recommended!
Roll the Drum
Some nice drums in here...