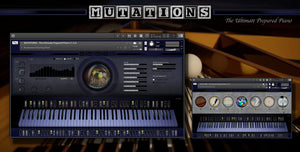 MUTATIONS is a deeply configurable prepared piano, with everything you need to create rhythmic, percussive and unique prepared piano textures. The library gives you the feeling you are in the room with a grand piano, and with a level of control that is as close as can be to having a hand under the lid, placing the bolts/mutes/pegs/screws/picks or ping pong balls yourself. 
With 6 preparations + pure string, and some additional special effects (glissandos & pingpong rolls), the preparations can be configured to the individual string for all 88 strings. Giving near limitless possibilities on your own sound. A custom keybed has been created that shows in real time the note played, with a corresponding popup menu per note accessible Once a key is prepared, the corresponding menu button will show a small thumbnail indicating the preparation type selected. For ease of seeing the preparation types at a glance in performance. Hit our all new RANDOM button, to let the library generate instrument wide preparations on all 88 keys for an element of chaos! Engage 'reverse' mode, and have all sounds play back in reverse. Either on top of the standard forward mode, or in isolation.
Important Note: MUTATIONS requires the FULL version of Kontakt 5.8.1 or above (also works with the FULL version of Kontakt 6/7). Do not purchase this if you only have Kontakt Player.
OVERVIEW
1GB Space required (3GB Pre Lossless Compression)

6 Preparations + Pure String

4 Special effects (Glissandos, Ping Pong Ball Rolls)

3 Round Robins on 2 Velocity Layers Across the range & each Preparation

1,443 unique samples

Note specific preparation choice on all 88 notes

Combine any of the 7 sound types across all 88 notes for endless possibilities

Preparation specific volume controls

A sound warping series of post FX

Sustain Pedal samples & volume controls

Release trigger samples & volume controls

Info overlay with images of the preparation type & info on the sound itself

Colour coding for prepared strings for easy visual guides

Colour highlighting when playing to show both the note & prep-menu in real time
TRAILER
INDEPTH WALKTHROUGH

CONTEXTUAL DEMO 3 (Tense Energetic Underscore)
THE GUI
CONTEXTUAL DEMO 2 (using v1.0.0 of the library) (No Preparations - Gnossienne No.1)
CONTEXTUAL DEMO 3  (using v1.0.0 of the library)  (Prepared Underscore)
SAMPLE LIBRARY REVIEW
LISTEN
Great price for the utility.
I needed some prepared piano for class. Without access to a grand piano, I was able to learn and compose for common piano preparations. I will utilize these textures as many orchestrator and composer have from my home studio.
The best prepared piano
I've tried several plugins of "prepared piano", I think this is the best one, since it has the most flexibility per note, plenty of options. Well done!
Mutations Prepared Piano
Insanity Samples has knocked it out of the park yet again with another fantastic instrument concept. The prepared piano on offer here is truly an amazing instrument with so many different applications across the musical spectrum. Bravo!