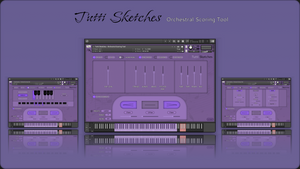 Tutti Sketches is a powerful Orchestral Scoring Tool aimed specifically at full orchestral texture writing (or Tutti), in conjunction with tempo sync'd and time signature mapped expressive performance, via 'hairpins' to create the perfect rise and fall in dynamics for your compositions.

Alongside this, Tutti Sketches also has a very powerful and adaptive chord mode that sees a wealth of options from pre-made ready to go chord arrangements, linked to the key signature / scale of your choice, to fully customisable chord structures in the full 12 tone chromatic scale.

A creativity inspiring orchestral library that allows you to create fully formed orchestral ideas with extreme speed and ease.
Important Note: TUTTI SKETCHES requires the FULL version of Kontakt 5/6/7 or above. Do not purchase this if you only have Kontakt Player.

OVERVIEW
Instruments (in tutti);

Strings

Winds

Brass

Pitched Percussion (Piano & Marimba)

2,249 unique, full chamber orchestral samples

2GB file size (6GB pre lossless compression)

4 Round Robins (instrument & articulation dependent)

3 Dynamic Layers (instrument & articulation dependent)

4 signal paths (pure, tape, room, mix)

Volume controls for each section of the orchestra to bring down or feature any given section within the Tutti framework. 
TRAILER
INDEPTH WALKTHROUGH
HOW TO 'SKETCH' & THEN 'ARRANGE' IDEAS WITH TUTTI
CONTEXTUAL DEMO (hero's Journey - Featuring Shire Winds in Support)
CONTEXTUAL DEMO (A Touch Mystical - With Neo Soloists in Support)
CONTEXTUAL DEMO (Board Room Mayhem - Using only TUTTI)
CONTEXTUAL DEMO (Carnival of the Animals - Featuring Mutations in Support) 
CONTEXTUAL DEMO (Delicate & Minimalist - Using on Tutti)
SIGNAL & INSTRUMENT FEATURING SHOWCASE
THE GUI
LISTEN