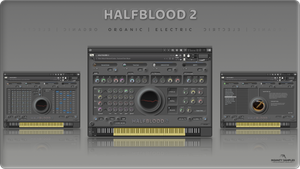 FLASH SALE 65% OFF!
For a very limited time, get a whopping 65% OFF HALFBLOOD 2 in celebration of the v1.5.0 update. With a sleek new interface design, and powerful new 'Chord Mode'. HALFBLOOD 2 is your one stop shop to inspiration.
HALFBLOOD 2 takes the original concept of its namesake, and sprints a marathon up to the next echelon. We have 130 unique live sampled sound sources, with 104 coming from worldwide and far flung live organic instruments, and 26 from live synths.

The library is chock full of creativity inspiring textures and sound pallets. With 4 possible voices to load, across all 130 textures on offer, we have access to over 11 million sound combinations. With individual sound processing chains, the patch creating possibilities are infinite. Or load one of our curated 500 pre-baked presets that come packed with the engine.
Important Note: HALFBLOOD 2 requires the FULL version of Kontakt 5/6/7. Do not purchase this if you only have Kontakt Player.
TRAILER
INDEPTH WALKTHROUGH
CONTEXTUAL DEMO -Tense & Percussive

LISTEN
SAMPLED CONTENT
Note: All textures with [HB1] denote textures bought through from the original HALFBLOOD collection.
Plucked Textures - Plucked 2 String Zither, Plucked Banjo, Trem Banjo, Zither with Slide, Plucked Mandolin, Trem Mandolin, Nylon Guitar, Plucked Oud (Single), Plucked Oud (Triple), Trem Oud, Plucked Ukulele, Trem Ukulele, Toy Zither, Acoustic Guitar [HB1], Old Autoharp [HB1]. 
Bowed Textures - Bowed 2 String Zither, Short Bow 2 St. Zither, Ricochet 2 St. Zither, Bowed Guitar, Circular Bowing Cello, Growling Cello, Trem Cello, Warped Cello, Bowed Erhu, Trem Erhu, Bowed Zither
Piano Textures - PianoScape 2, Bowed Verb'd Piano, Glitchy Piano 2, Prepared Piano, Wurli, PianoScape [HB1], Glitchy Piano [HB1], Water Piano [HB1], Unknown Piano [HB1], Trem Piano [HB1], Verb Piano [HB1], Reverse Piano [HB1], Re-Amp Piano [HB1]
Glass Textures - GlassScape 2, Glitchy Glass 2, GlassScape [HB1], Glitchy Glass [HB1], Space Glass [HB1], Reverse Glass [HB1], Bow-Space Glass [HB1]
Warped Ensembles - Rich Strings 2, Glitchy Strings 2, VoiceScape, Bright Strings [HB1], Glitchy Strings [HB1], BrassScape [HB1], Solemn Brass [HB1], Glitchy Brass [HB1], Reverse Brass [HB1], WindScape [HB1], Duduk Ensemble [HB1]
Aerophone Textures - Harmonium, Melodica, AccordionScape [HB1], Glitchy Accordion [HB1]
Metal Percussion Textures - Singing Bowl Hits (Hard Mallet), Singing Bowl Rolls (Hard Mallet), Singing Bowl Hits & Rolls (Hard Mallet), Singing Bowl Hits (Soft Mallet), Singing Bowl Rolls (Soft Mallet), Singing Bowl Hits & Rolls (Soft Mallet), Gong 1 (Large Mallet), Gong 1 (Small Mallet), Gong 1 (Rubber Mallet), Gong 1 Bowed, Gong 1 Trem Bow, Gong 2 (Small Mallet), Gong 2 Bowed, Gong 2 Short Bow, Gong 1 [HB1], Gong 2 [HB1], Gong 3 [HB1]
Drum Percussion Textures - Clay Drum, Tabla, Tom Toms, Musical Dustbin [HB1], Deep Booms [HB1], Aggressive Booms [HB1], Drum Ensemble [HB1]
Pitched Percussion Textures - Kalimba Pure, Kalimba Rolling, Kalimba Bowed, Marimba [HB1], Kalimba [HB1]
Miscellaneous  Textures - Jaw Harp (Adaptive), Jaw Harp Wobble, Monkey Drums, Ocarina Warped, Panpipe, RainStick 1, RainStick 2, RainStick Shaken, Shaker Quake 1, Shaker Quake 2, Warped Violin Tuner, Wooden Folk Whistle, Tribal Shaker [HB1], Throat Sousa [HB1]
Synth Textures - Sine, Square, Saw, Triangle, Sine Octave, Square Octave, Saw Octave, Triangle Octave, Noise, Sine-Square, Sine-Saw, Sine-Triangle, Sine-Noise, Sine-Square-Saw, Sine-Square-Triangle, Sine-Saw-Triangle, Sine-Square-Saw-Triangle, Square-Saw, Square-Triangle, Square-Saw-Triangle, Saw-Triangle, Octave-Sine-Noise, Square-Noise, Saw-Noise, Triangle-Noise
- 4GB (post-Lossless Compression)
- 130 Instrumental Textures from Live Instruments & Live Synths
GUI 
I Dig It
Within about an hour, I had two starts to tracks that I really like. On one, I had a gong/bell sound very much like a key sound in a popular piece from the Twin Peaks TV show. I like the controls and interface. It's great for tinkering. I would like to see them add a way to pitch down the synth oscillators in steps. There is a pitch control section but it is designed for modulating the pitch and the pitch parameter doesn't seem to have a way to step down or up by half steps. I might be missing some way to do it. But the quality of the sounds and the nice selection make me not worry to much about the pitch adjusting.
HALFBLOOD 2 - Organic / Electric Hybrid Engine
a big upgrade from Half Blood
It is like day an night. Halfblood 2 is a very nice NI instrument. Fully featured, easy to use, and sounds great. I will invest some time to find the sounds that I can use in my productions. A considerable value.
It's a strange and charming sound.
It's a strange and charming sound.
I'm interested in folk music, medieval music, and use it to recreate that sound.
It is a valuable sound source in that sense because it is different from a beautiful sound and an attractive sound.
original and ingenious sounds
Nice surprise for me ! I love the way they play the intruments in strange ways resulting in mysterious and sometime scary sounds that perfectly fit my style of music. I just regret that the intrument is not full NKS.