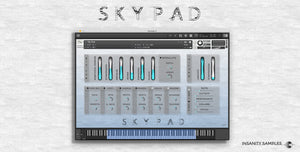 PRODUCT OVERVIEW
An ethereal instrument of pad textures, made from organic sound sources. That are bowed, time stretched, processed, and moulded into a lush blanket of sound. A beautiful place to start something new, or wrap around a piece to add balance and intrigue.
Please Note: The FULL version of Kontakt 5.8 is required (Not Kontakt player)
OVERVIEW

SKY PAD is a hybrid organic pad instrument, with predominantly organic sound sources, with a hint of analogue synth pad samples that can be blended in.
The instrument comprises of 4 main sections. The MIX-LAB, FILTER, FX, & LFOs. With vast modulation and sound moulding possibilities.
An instrument perfect for creating rich and complex beds, drones, or all encompassing soundscapes capable of standing entirely alone.
Built to inspire, the interface is simple and to the point.
With a collection of pre-baked presets, to then adapt or completely overhaul.
With Kontakt's simple to use MIDI CC assigning capabilities, any area of this instrument can become a part of your performance. With simple right click and wiggle assigning, your outboard faders and dials can bring the instrument into the room!
AUDIO EXAMPLE
INDEPTH WALKTHROUGH
Excellent
Very usable pads with good quality.