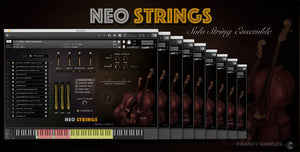 NEO STRINGS is a modern solo string ensemble comprising of violin, viola, cello and double bass. Recorded in the same beautiful space through 4 mic signals, and a huge 24 articulations captured for each instrument in great detail. 

With articulations ranging from the staple bread and butter articulations of a stringed instrument (though still jam packed with unique character) to ultra modern textural playing effects and extended techniques. From our 'expressive longs' with true legato, to cutting edge and trail blazing textures like 'pont-tasto cycles'... Neo Strings is brimming with contemporary character and nuance. 
                      (Viola Main Patch's GUI used as example. All GUIs are lower on this page)

 AT A GLANCE
1 Violin, 1 Viola, 1 Cello, 1 Double Bass, Ensemble Patch
23 articulations per instrument (16 main, 7 extended techniques & FX) [listed in detail at the bottom of the page]
True Legato with 4 powerful legato modes; Adaptive Speed, Adaptive Velocity, Fixed Fast & Fixed Slow legato options 
Dynamics, Expression & live Vibrato/Non-Vibrato control
4 mic positions; Close (Overhead), Room (Left & Right), Ambient
Mic Purging for RAM economisation 

Overlays for layering multiple articulations in one performance patch
'Chord Mode' in Ensemble Patch with pre-arranged tutti chords
Scale Link Mode for ease of use in Ornamental & trill playing
7GB download size (13GB on disk & over 60GB Pre-Lossless Compression)

29,464

 samples
Important Note: Neo Strings requires the FULL version of Kontakt 5.8.1 or above (also works with the FULL version of Kontakt 6 /7). Do not purchase this if you only have Kontakt Player.
LISTEN
WALKTHROUGH
NO TALK - ALL PLAY ARTICULATION COMPILATION
EXTENDED & EXPERIMENTAL TECHNIQUES CONTEXTUAL DEMO
DEMO: Neo Woodwinds, Neo Strings & Supporting Insanity Samples Libs in One BIG Underscore Demo
ARTICULATION LIST
All articulations are present for each instrument unless specified otherwise
Main Articulations
Static Longs - Vibrato & Non-Vibrato (With or without adaptive True Legato)
Staccato (Shortened notes, still with some length)
Staccatissimo (Very short notes)
Spiccato (Short notes with Bow starting off string)
Pizzicato (Plucked with fingers)
Col Legno (Struck with the Back of the Bow) [On all instruments bar the Violin]
Expressive Longs - Non-Vibrato (Notes with a natural performance arc)
Expressive Longs - Vibrato (Note with a natural performance arc & vibrato)
Sforzando Decrescendo (A dramatic Decrescendo from Fortissimo)
Ornaments (Semi-tone and Whole tone turns both up from the root note and down) 
Trills (Whole-tone and Semi tone performance trills, with a dynamic arc)
Tremolo (With accented start)
Note: The new 'Overlay' function allows for the Spiccato, all Ornaments & Trills to be used as overlays on the legato and poly longs keyswitch. Accessible above 100 velocity when selected as a secondary overlay keyswitch. Ref the walkthrough for further information. 
Extended Techniques & FX
Harmonics
Extreme Sul Pont (Bowed on the edge of annihilation at the bridge)
Pont-Tasto Cycles (A circular bow from bridge to fingerboard, like breathing)
Extreme Sul Tasto (Bowed over the fingerboard for a woodwind-esque texture)
Behind the Brige FX (Scratchy, harmonic laden special FX with bowing post bridge)
Sul Pont Erratic Trems (Slow to fast erratic trems on the edge of the bridge)
Erratic Vibrato (Ultra wide to narrow vibrato)
THE GUI (viola used for example for main patches, alongside Violin for Extended Techniques patches & Then the Ensemble Patch). 
 ______________________________________________________________________
 "I can't understand why people are frightened of new ideas. I'm frightened of the old ones." - John Cage
NEO STRINGS
The attraction of Neo Strings is its intimate and subtle sampling, but the strength is its massive bank of articulations. Everything a composer could need in true to life chamber arranging software. The delicate harmonics and whispery tails give the samples a beautiful attack and release. This is a great library for composers looking to take the next step in their career.
Lovely solo string package with a nice sound and extended articulations
A lot of composers have learned over the years that orchestral samples, especially solo instruments, usually have their own particular sweetspots. Hence our tendency to collect a few different packages. For those looking for solo strings that have a certain bite and a wealth of articulations that are useful for slightly edgier composing styles and modern neo-classical "non romantic" backdrops, this collection can be a good fit. I've enjoyed it so far and it is a good complement to my existing palette of solo string VIs. Especially the extended techniques in here are amazing. I've not heard them being performed like this elsewhere. All in all these are a good match for my other Insanity Samples library (NEO Woodwinds). I recommend you'd check them out.
Excellent
Varied and versatile. Invest the time and get some great results.
NEO Strings are dope
Great sounding strings!
Got it on sale so fantastic!