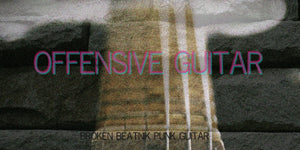 OFFENSIVE GUITAR is a guitar library for the full version of Kontakt, designed primarily to tap into the more edgy and aggressive playing styles of the sorts of Guitarists Tom Waits might hire. The Marc Ribots of the world, the Beatnik/Punks.
A playing style yet to be fully explored in the Sample world. Whilst this concept gave birth to the instrument, during production it evolved into a fully featured guitar library capable of both the rough and the smooth. To cater for all!
Please Note: The FULL version of Kontakt 5.8 is required (Not Kontakt player)
OVERVIEW
AMP - A section with straight forward amp style EQ manipulation with Bass, Mid, Treb, Presence & Volume dials.
Keyswitches - There are multiple keyswitches on offer from 'Soft Longs' with only the most delicate and pensive samples included for a great way to create beautiful and emotive guitar pieces. 'Longs' with the libraries characteristic aggressive and angular dynamics reminiscent of a Waits/Ribot style playing. 'Short' with the same angular playing style, but with very short performances to create riffs or angular melodic phrasing. 'Trems' a multilayered and treated slow tremolo style of playing, great for pad like paying. 'e-bow' - a straight forward e-bowed sample set. Finally a special 'FX' sample set, full of interesting risers, hits and impacts created all from a guitar (and even a handful of plastic rulers!)
Pedalboard - Your easy to use effects section, based on the real world equivalent of a guitarist's pedal board with all the usual suspects from Distortion, Delay, Chorus, Tremolo. Rotary and Reverb.
AUDIO DEMO

TEASER TRAILER
INDEPTH WALKTHROUGH