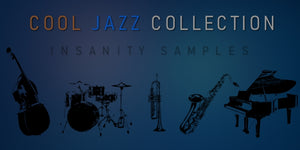 The COOL JAZZ COLLECTION is a specially curated library of 5 instruments designed to embody the cool jazz idiom. With a Miles Davis / Chet Baker style and feel. Perfect for moody, brooding noir style 'cool' jazz. A sub-genre that has yet to be properly explored in the sample world, until now. A unique and characterful collection for your tool box.
 AT A GLANCE
Trumpet (Muted & Unmuted)
Tenor Saxophone
Piano
Upright Bass
Drums (Brushes & Sticks)
Performance controlled True Legato
Velocity controlled Dynamics for seamless and ultra real solo instrument performance 
Offset/breath/re-tongue control
Instrument mechanics sounds / key sounds etc... for ultra-realism
2,500 samples
4GB pre-compression (2GB space required post lossless compression)
Up to 4 dynamic layers & up to 8 round robins, instrument dependent
Important Note: The Cool Jazz Collection requires the FULL version of Kontakt 5.8.1 or above (also works with the FULL version of Kontakt 6 /7). Do not purchase this if you only have Kontakt Player.
LISTEN
Here's what people are saying...
I bought my copy today. I've only done a bit of playing around with it but it sounds amazing!
This is what I've been needing!!!
Great product, great sounds
Seriously gorgeous tones !!!
a really authentic sound behavior! very well captured!
Awesome sounds! I upgraded to the full version of Kontakt mainly because I wanted this library.
This is what I've been needing!!!
Great product, great sounds
Seriously gorgeous tones !!!
a really authentic sound behavior! very well captured!
TRAILER
WALKTHROUGH
THE CONCEPT

This library taps into an as of yet explored sub-genre within Jazz. The 'cool jazz' style. A style made most famous by people like Miles Davis & Chet Baker. With slow brooding melodies, over soft and Smokey accompaniment. With the 'muted' trumpet being so synonymous with the style, this instrument really leads the way within this collection. Attempting to embody that classic ultra-specific sound of the style, this library does what no other can. 
CONTEXTUAL DEMO 1 - Visual look at demo 'Noir'
REVIEW: Sample Library Review
CONTEXTUAL DEMO 2 - Visual look at demo 'Blues'
THE GUI (Double Bass shown as example)
ARTICULATION LIST
Trumpet
Longs + True Leg + Mute
Poly Longs + Mute
Staccato + Mute
Falls + Mute
Longs + True Leg (Unmuted)
Poly Longs (Unmuted)
Staccato (Unmuted)
Falls (Unmuted)
Tenor Saxophone
Longs + True Legato
Falls
Poly Longs
Semitone Trills
Wholetone Trills
Staccato
Piano
Simply a piano with no keyswitches
Upright Bass
Longs
Stopped
Drums
Brushes
Sticks
 _____________________________________________________________________
 "Sometimes you have to play a long time, to be able to play like yourself" - Miles Davis
Adore this library
I purchased this library, primarily that it has all of the instruments for jazz, which is pretty generous. It's cohesive and scratches that create itch. You can make full jazz songs with it and it is a great addition to what I own currently. The Black Friday 65% off was a great bonus!!!!
Excellent
I acquired the Cool Jazz Collection a few months back to compose in the Jazz and Bossa Nova style. I've found it incredibly valuable, offering just the right customization options for shaping the sound. The minimalist approach truly works wonders here. It provides everything I need for my intended musical goals. Overall, I'm quite satisfied with the sound quality and the comprehensive features this library brings.
Awesome!
Great job on this one! Now hurry up with the stand alone version lol!
Great instruments for jazz, and other cool music.
Instruments sound wonderful! And a fair value. Recommended if you are producing some cool jazz, or really any other cool music.