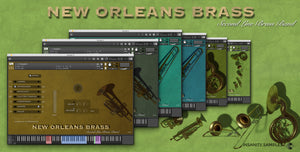 NEW ORLEANS BRASS is a brass powerhouse. Specially designed to embody the charm and character of the New Orleans Brass Band sound. Equally great for injecting the funk into a record, as it is recreating that Jazz/Blues' heartland sound. Use a multi-patch and arrive at something truly filmic too!

New Orleans Brass is a 5 instrument Brass library for the full version of Kontakt. The vision behind the instrument was to create a library that could explore fully the world of the New Orleans Brass Band, with that signature low-fi and raw sound, coupled with beautiful precision and multiple articulation choices.
Contains: 2 Trumpets, 2 Trombones, Sousaphone and Sketch Ensemble
Important Note: New Orleans Brass requires the FULL version of Kontakt 5.8.1 or above (also works with the FULL version of Kontakt 6/7). Do not purchase this if you only have Kontakt Player.
AUDIO DEMO
INDEPTH WALKTHROUGH
THE GUIs
really sound Orleans brass
warm and real sound of brass, very enjoyable to write with
Absolutely marvellous
This is the VI Sample Section I have been dreaming about. And a sousaphone! (And no it's not the same as a Tuba from other sample libraries! :-) )
An extremely useful library for me - I am currently working on my (New Orleans inspired) Rattlin Bone Theatre Show Soundtrack and this is really helping me map out the horns for it. Fabulous
Highly recommended. Thank you
Cheers, Wily Bo
New Orleans Brass 5
Like having the Orleans Brass at home.
Great Brass
It's so easy to Build a new Brass—Session. Great